The Harrier, informally referred to as the Harrier Jump Jet, is a family of jet fighters capable of vertical/short takeoff and landing (V/STOL) operations. Originally developed by UK manufacturer Hawker Siddeley in the 1960s, the Harrier emerged as the only truly successful V/STOL design of the many attempted during that era, despite being a subsonic aircraft, unlike most of its competitors. It was conceived to operate from improvised bases, such as car parks or forest clearings, without requiring large and vulnerable air bases. Later, the design was adapted for use from aircraft carriers.
There are two generations and four main variants of the Harrier family, developed by both UK and US manufacturers:
Hawker Siddeley Harrier
McDonnell Douglas AV-8B Harrier II

British Aerospace Harrier II
The Hawker Siddeley Harrier is the first generation-version and is also known as the AV-8A Harrier. The Sea Harrier is a naval strike/air defence fighter. The AV-8B and BAE Harrier II are the US and British variants respectively of the second generation Harrier aircraft
Development
Edit
Following an approach by the Bristol Engine Company in 1957 that they were planning a directed thrust engine, Hawker Aircraft came up with a design for an aeroplane that could meet the NATO specification for a "Light Tactical Support Fighter". There was no financial support for the development from HM Treasury, but aid was found through NATO's Mutual Weapon Development Project (MWDP).
The Hawker P.1127 was ordered as a prototype and flew in 1960. NATO developed a specification (NBMR-3) for a VTOL aircraft, but one that was expected to have the performance of an aircraft like the F-4 Phantom II. Hawker drafted a supersonic version of the P.1127, the P.1150, and also the Hawker P.1154, which would meet NBMR-3. The latter was a winner of the NATO competition and development continued, initially for both services, until cancelled, by the new government on cost grounds, at the point of prototype construction in 1965.
Work on the P.1127 continued with nine evaluation aircraft, the Hawker Siddeley Kestrel, ordered. These started flying in 1964 and were assessed by the "Tri-partite Evaluation Squadron", which consisted of British, US and German pilots. With the cancellation of the P.1154, the RAF ordered a modified P.1127/Kestrel as the Harrier GR.1 in 1966.
First-generation Harriers
Edit
The Hawker Siddeley Harrier GR.1/GR.3 and the AV-8A Harrier were the first generation of the Harrier series, the first operational close-support and reconnaissance attack aircraft with vertical/short takeoff and landing (V/STOL) capabilities. These were developed directly from the Hawker P.1127 prototype and the Kestrel evaluation aircraft.
The British Aerospace Sea Harrier is a naval V/STOL jet fighter, reconnaissance and attack aircraft, a development of the Hawker Siddeley Harrier. The first version entered service with the Royal Navy's Fleet Air Arm in April 1980 as the Sea Harrier FRS.1, and was informally known as the Shar. The upgraded Sea Harrier FA2 entered service in 1993. It was withdrawn from Royal Navy service in March 2006. The Sea Harrier FRS Mk.51 is in active service with the Indian Navy, which operates the jet from its aircraft carrier INS Viraat.
Second-generation Harriers
Edit
The Harrier was extensively redeveloped by McDonnell Douglas and British Aerospace (now parts of Boeing and BAE Systems, respectively), leading to the Boeing/BAE Systems AV-8B Harrier II.[1] This is a family of second-generation V/STOL jet multi-role aircraft, including the British Aerospace-built Harrier GR5/GR7/GR9, which entered service in the mid-1980s. The AV-8B is primarily used for light attack or multi-role tasks, typically operated from small aircraft carriers. Versions are used by several NATO countries, including Spain, Italy, and the United States. The BAE Systems/Boeing Harrier II is a modified version of the AV-8B Harrier II that was used by the Royal Air Force (RAF) and the Royal Navy until 2010.
Between 1969 and 2003, 824 Harrier variants were delivered. While the manufacture of new Harriers concluded in 1997, the last remanufactured aircraft (Harrier II Plus configuration) was delivered in December 2003 which ended the Harrier production line.[2]
Operation
Edit
The Harrier Jump Jet, capable of taking off vertically, can only do so at less than its maximum loaded weight. In most cases, a short take off is performed, using forward speed to achieve aerodynamic lift, which uses fuel more economically than a vertical take off. On aircraft carriers, a ski-jump ramp is employed at the bow of the carrier to assist the aircraft in becoming airborne.
Landings are typically performed very differently. Although a conventional landing is possible, the range of speeds at which this can be done is narrow due to relatively vulnerable outrigger undercarriage. Operationally, a near-vertical landing with some forward speed is preferred.
Replacement
Edit
As of June 2015, the F-35B STOVL variant of the F-35 Lightning II (formerly the Joint Strike Fighter) is intended to replace the AV-8B Harrier II in service with the US Marine Corps while the RAF and Royal Navy are scheduled to introduce the F-35B in 2016 with their first F35 group, 617 Squadron and the Italian Navy in 2018-2019. In 2010, it was announced that the RAF and RN would retire their remaining Harriers by 2011, and in December 2010 the RAF's Harrier GR9s made their last operational flights. In June 2011, the MoD denied press reports that the aircraft are to be sold to the US Marine Corps for spares to support their AV-8B fleet, but options for disposal are still being considered. However, at the end of November 2011, Defence Minister Peter Luff announced the sale of the final 72 Harriers to the US Marine Corps. As many as possible of the 72 Harrier GR9s will be converted to match AV-8B Night Attack configuration to augment the total AV-8B end strength (this will allow the USMC to retire some high-flight-hour F/A-18D aircraft), while the remaining aircraft will be used as spare parts sources for the airworthy fleet.
Variants
Edit
Main article: List of Harrier variants
Hawker P.1127

(1960)

Kestrel FGA.1

(1964)

Harrier GR.1/1A/3/3A

(from 1966)

Harrier T.2/2A/4/4A/8/52/60

(from 1970)

AV-8A/C/S Harrier Mk.50/53/55/Matador

TAV-8A/S Harrier Mk.54/Matador

Sea Harrier FRS.1/FRS.51/F(A).2

(from 1978)

AV-8B Harrier II/EAV-8B Matador II/AV-8B Harrier II Night Attack/AV-8B Harrier II Plus

(from 1983)

TAV-8B Harrier II/ETAV-8B Matador II/

Harrier GR.5/5A/7/7A/9/9A

(from 1985)

Harrier T.10/12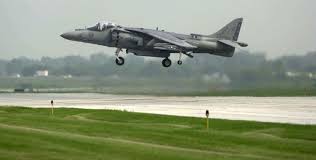 Harrier Jump Jet
A Harrier GR7A of 800 Naval Air Sqn, Royal Navy
Role
V/STOL strike aircraft
National origin
United Kingdom/United States
Manufacturer
Hawker Siddeley


BAe/McDonnell Douglas
Boeing/BAE Systems

First flight
28 December 1967
Introduction
1969
Status
In service
Primary users
United States Marine Corps


Royal Air Force (retired)
Royal Navy (retired)
Indian Navy

Produced
1967–2003
Developed from
Hawker P.1127
Variants
Hawker Siddeley Harrier


British Aerospace Sea Harrier
McDonnell Douglas AV-8B Harrier II
British Aerospace Harrier II
Ad blocker interference detected!
Wikia is a free-to-use site that makes money from advertising. We have a modified experience for viewers using ad blockers

Wikia is not accessible if you've made further modifications. Remove the custom ad blocker rule(s) and the page will load as expected.