The Remington Model 870 is a pump-action shotgun manufactured by Remington Arms Company, LLC. It is widely used by the public for sport shooting, hunting, and self-defense. It is also commonly used by law enforcement and military organizations worldwide.
Development
Edit
The Remington 870 was the fourth major design in a series of Remington pump shotguns. John Pedersen designed the fragile Remington Model 10 (and later the improved Remington Model 29). John Browning designed the Remington Model 17 (which was later adapted by Ithaca into the Ithaca 37), which served as the basis for the Remington 31. The Model 31 was well liked,[4] but struggled for sales in the shadow of the Winchester Model 12. Remington sought to correct that in 1951 by introducing a modern, streamlined, rugged, reliable, and relatively inexpensive shotgun – the 870.
Sales of the 870 have been steady. They reached 2 million guns by 1973 (ten times the number of Model 31 shotguns it replaced). By 1996, spurred by sales of the basic "Express" models, which were added as a lower-cost alternative to the original Wingmaster line, sales topped seven million guns. On April 13, 2009, the ten millionth Model 870 was produced; the 870 holds the record for best-selling shotgun in history.[5]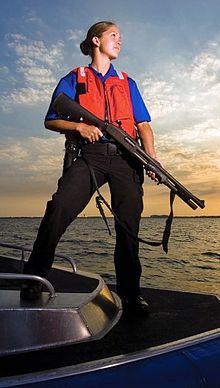 Design details
Edit
The 870 features a bottom-loading, side ejecting receiver, tubular magazine under the barrel, dual action bars, internal hammer, and a bolt which locks into an extension in the barrel. The action, receiver, fire control group, safety catch and slide release catch of the Remington Model 870 shotgun are similar to those used on the Remington Model 7600 series pump-action centerfire rifles and carbines. The basic fire control group design was first used in the automatic 11–48. Twelve gauge stocks will also interchange on the older 12-gauge-sized 20-gauge receivers, although modification is needed to fit the smaller sized 20-gauge receivers employed since the late 1970s. Several parts of the 870 will interchange with the semi-automatic Remington 1100 and 11–87.
The original 870 models were offered with fixed chokes. In 1986 Remington introduced the new Remington "Rem Choke" system of screw-in chokes (also fitted to Remington model 1100 auto-loading shotguns at the same time). Initially, the Rem Chokes were offered only in 12 gauge in barrel lengths of 21", 26", and 28". The following year the availability was expanded to the 20 gauge and included other barrel lengths.[7][8]
Production 870s for over 30 years had a design whereby a user could fail to press a shell all the way into the magazine when loading such that the shell latch did not engage the shell, and such actions could tie up the gun.[7][9] This was caused by the shell which slipped out of the magazine under the bolt in the receiver to bind the action, requiring rough treatment of the action or even disassembly to clear by the uninitiated. The potential issue was resolved with the introduction of the "Flexi Tab" carrier. Guns with this modification can be identified by the "U"-shaped cut-out on the carrier, visible from below the gun. The cut-out, combined with a modified machining on the underside of the slide assembly, allows the action to be opened with a shell on the carrier.
Variants
Edit
There are hundreds of variations of the Remington 870 in 12, 16, 20, 28 gauges and .410 bore. In 1969 Remington introduced 28 gauge and .410 bore models on a new scaled down receiver size, and in 1972 a 20 gauge Lightweight version was introduced on the same sized receiver, and all of the smaller gauges today are produced on that size receiver. From the original fifteen models offered, Remington currently produces dozens of models for civilian, law enforcement, and military sales. 870 variants can be grouped into:
Express – Matte blue/black bead-blasted
with hardwood, laminated hardwood or synthetic stocks and chambered for 2 3/4" and 3" 12 or 20 gauge shotshells. All Expresses have been chambered in 3" in 12 and 20 gauge, but markings have varied.
Marine – Nickel plated with synthetic stocks.
Mark 1 – adopted by the United States Marine Corps
in the late 1960s and saw service into the 21st century. The Model 870 Mark 1 has a 21 inches (53 cm) barrel with an extended magazine increasing total capacity to 8 rounds, and was fitted with an adapter allowing use of the standard M7 bayonet for the M16 rifle.[7][10]
MCS (Modular Combat Shotgun) – A new
modular version of the M870 which can be quickly modified with different barrels, magazine tubes, and stocks for different purposes, such as urban combat and door breaching.
Police – Chambered in 12 gauge only with a 3" magnum chamber. Blued or Parkerized
steel finish. These models feature a stronger sear spring, carrier latch spring, and a forged steel extractor (as opposed to the MIM extractor found on Express models). Receivers are stamped "Remington 870 Police Magnum" as of 2014. They are equipped with Police-specific walnut or synthetic stocks which are fitted with sling mounts. Walnut stocks lack checkering as found on the Express/Wingmaster models. 870P models come with matching walnut or synthetic forends that are shortened to prevent interference with most vehicle-mounted rack systems. The shortened forend also allows quick visual inspection of the magazine regardless of what position the forend is in, whereas the lengthened sport-type forend on other models partially blocks the loading port when pulled to the rear.
Police models are available with 18" or 20" barrels, with or without rifle sights, and have a standard capacity of four rounds. They can be ordered with a two or three round extended magazine tube from the factory, bringing total capacity to 6+1 (18" barrel) or 7+1 (20" barrel). All police barrels come with an Improved Cylinder choke unless special ordered.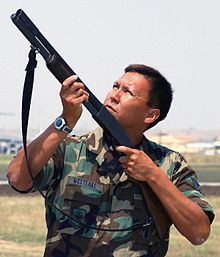 Super Mag – Chambered for 3½" 12 gauge shotshells.
Wingmaster – Blued
steel with high gloss or satin walnut stocks. They have been offered in Skeet, Trap, and field configurations. Originally the basic Wingmaster was chambered for 2 3/4" rounds and came with a fixed choke, and the 3" chambered versions were designated Magnum models. Models built after 1986 offer the RemChoke Interchangeable choke tube system, and the 12 and 20 gauge versions are chambered in 3" for either 2 3/4" or 3" shells. Prior to the introduction of the "Police" model 870, altered Wingmasters were popular among law enforcement.
Chinese versions
Edit
Arms manufacturer, Norinco, of the People's Republic of China has made unlicensed copies of the Remington 870 as the design is no longer under patent protection. The most common of these designs are the Norinco HP9-1 and M-98, the difference being that the HP9-1 has either a 12.5" or 14" barrel, whereas the M-98 has an 18.5" barrel. In the United States, where most Norinco products are specifically non-importable, this shotgun was imported and sold under the names Norinco Hawk 982 and Interstate Hawk 982.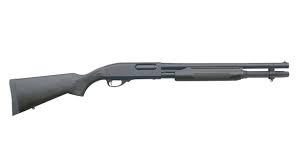 Remington 870
Remington 870
Type
Shotgun
Place of origin
United States
Service history
In service
1951–present (U.S.)
Used by
See Users
Production history
Designer
L.Ray Crittendon, Phillip Haskell, Ellis Hailston, G.E. Pinckney
Designed
1951
Manufacturer
Remington Arms
Produced
1951–present[1]
Number built
10,000,000+[2]
Variants
Wingmaster, Express, Marine, SPS, SPS-T, XCS, TAC, Super Mag, MCS
Specifications
Weight
7.0 lb (3.2 kg) to 8.0 lb (3.6 kg)
Length
37.25 in (946 mm) to 50.5 in (1,280 mm)
Barrel length
18 in (460 mm) to 30 in (760 mm)
Cartridge
12 gauge, 16 gauge, 20 gauge, 28 gauge, or .410 bore
Action
Pump-action
Feed system
4+1 to 7+1 round internal tube magazine
Sights
Bead, twin bead, adjustable open sights, or ghost ring (all iron sights). Also cantilever and receiver-mounts for scopes[3]
Ad blocker interference detected!
Wikia is a free-to-use site that makes money from advertising. We have a modified experience for viewers using ad blockers

Wikia is not accessible if you've made further modifications. Remove the custom ad blocker rule(s) and the page will load as expected.